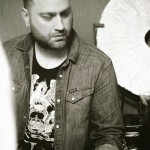 Ο Dim Zach, (Δήμος Ζαχαριάδης) είναι DJ, παραγωγός και μέλος των Liebe. Με δικό του πλέον ραδιοφωνικό show στο Prime Radio 100,3  τον ακούμε κάθε βράδυ Τετάρτης στις 22.00.
Οι Liebe, μας ήρθαν απο τα βόρεια, και συγκεκριμένα απο τη συμπρωτεύουσα.
Ενα αγγλόφωνο  ντουέτο με επιρροές από ακούσματα των 80's, που αποτελείται απο τον Δήμο Ζαχαριάδη (synths &  programming) και τον Γιώργο Μπέγκα (vocals). Το σχήμα υφίσταται από το 2009 και το ντεπούτο άλμπουμ "Club Royal"  κυκλοφόρισε το 2010 από την Universal. Η μουσική τους είναι μία μίξη από ηλεκτρονική ποπ.
Το πρώτο single "Models" έγινε ραδιοφωνική επιτυχία και στην κυριολεξία το "λιώσαμε" στον αέρα του PrimeRadio 100,3.
Στα πρώτα βήματα του σχήματος υπήρξαν πολύ αξιόλογα τραγούδια που φέρνουν στους μεγαλύτερους μια έντονη μυρωδιά απο αγαπημένες μουσικές των 80's όπως το Always. Μετά την κυκλοφορία του ντεμπούτου άλμπουμ κάνανε μια σειρά εμφανίσεων σε μεγάλα φεστιβάλ όπως River party Νεστορίου, Reworks festival, Dramaica youth festival, Earth wind Festival όπως και ή εμφάνισή τους μαζί με τον Schiller στη Θεσσαλονίκη, αφήνωντας τις καλύτερες εντυπώσεις.
A liitle bio for both Dim Zach & Liebe
Dim Zach went to high school in Thessaloniki.Attending Tech College, Dim became a regular at downtown Techno and made his name as a DJ on the Thessaloniki club scene in 1990. Though a novice with little experience, he became known for his diverse, genre-spanning selection. Influenced by electro pop , scene of Thessaloniki and the more dance influence of the Germany (all of which he incorporated in his sets) he attracted a wider audience. He was soon one of the most respected DJs and was being called on for private parties. In 1995, Dim was featured with many artists worldwide. He moved on, however, to producing music after Adriano Darrel , manager heard one of his gigs and introduced the musicians. Dim produced songs for Cuban and Italian and Greek artists.
LIEBE – Biography
A band from Greece influenced by the sounds of 80's, composed by Dim Zach (synths & programming) and George (vocals & guitar).The group has existed since 2009.Liebe is kind of electro-pop, the live show tracks from the new album and some remixes
by Pet shop boys, Soft Cell, Human League and Aha.
The debut album 'Club Royal' (planetworks / universal) contains 14 songs between the song "Models" who knows success in radio in Greece.The second album "somewhere in time" released in February 2012 by Undo records/EMI.
Performed live with LIEBE
Punto s (thessaloniki)
scirocco (halkidiki)
Suck bar (thessaloniki)
River party fest (nestorio – kastoria)
lido (thessaloniki)
Notica bar (kavala)
Dramaica fest (drama)
Barroom (rethimno)
Zero club (chania)
Music day fest (volos)
apothiki mylos (thessaloniki)
Music day fest (thessaloniki)
Aldebaran (thessaloniki)
Level 9 ( thessaloniki)
Armenistis camp (halkidiki)
Principal club (thessaloniki)
Xylourgio mylos (thessaloniki)
Club mylos (thessaloniki)
sirocco (halkidiki)
Maison Crystal (thessaloniki)
reworks fest 2010 (thessaloniki)
jazzanova (thessaloniki)
anasa (halkidiki)
roots (lamia)
skull (athensi)
remvi (thessaloniki)
home 9-11 (thessaloniki)
7 texnon topos (corfu)
earth wind & music festival (athens)
european music day (2011) thessaloniki
baraki bar (giannena)gr
neon bar (naousa) gr
Schiller + Liebe live (block 33)
European music day 2011 (thessaloniki)
barley (nigrita) gr
room 109 (crete)
floral (athens)
european music day (volos)
shark (thessaloniki)
noir (drama)
kingsize (red water)
Mao (kavala)
karpenisi (giorti dasous festival )
en arti (arta)
Daios cove (crete)
il posto (thessaloniki)
bollocks (larisa)
villa merlin (lamia)
erofili (volos)
stoa (ioannina)
eccentrico (alexandroupoli)
clochard (xanthi)
thermaikos (thessaloniki)
berlin (drama)
franco's (kavala)
yacht club xenia domotel (volos)
babylon (agrinio)
golfys (ioannina)
caldera (katerini)
blow up (heraklio)
gazi music hall (athens)
mosaiko (athens)
home (rethimno)
rover (thessaloniki)
barcode (kozani)
almodobar (grevena)
naiades hotel (aridaia)
istiaia bar (istiaia)
* Brazilian Percussion
* Afro-Cuban Percussion
* Advanced Drum Rudiments 1 and 2
* Acoustic Characteristics of the Drumset
* Drum Styles Labs in Jazz, Fusion, Rock, Funk, and World Styles
* Contemporary Electronic Percussion
* Contemporary Techniques for the Pop Percussionist
* Marimba Transcriptions and Repertoire
* Mallet Keyboard Musicianship
* Brazilian, Afro-Cuban, and World Music Rhythms Labs
* Advanced Drum Chart Reading
* Drumset Repertoire and Application Labs in Jazz, Rock, Funk, Fusion, and Hip Hop Styles
* Studio Drumming Techniques and Applications
* Techno Drumset Performance
* Double Bass Drum Studies
* Concert Snare Drum Techniques
* Country and Western Drumming
* Singing and Drumming Coordination
* West African Drumming
* Steelpan Techniques
* Alternative Setups for Drumset and Percussion
* South American Rhythms for Drumset
* Caribbean Rhythms for Drumset
* Afro-Cuban and Brazilian Rhythms for Drumset
* Double Bass Drum Studies
* Bata Rhythms: Afro-Cuban Ceremonial Drumming
* Native American Drumming
* Brush Techniques and Advanced Brush Techniques
* African Rhythms for Drumset
* World Beat Pop
* Solo Construction n Drum Set
* Polyrhythms 1 and 2